Year 1
Welcome To Year 1
Meet the Team
Teachers:
Mrs Truby (Maples)
Mrs Jones (Willows)
Teaching Assistants:
Mrs Welbourne
Miss Tidwell
In Year One you will find lot's of exciting hands on learning that helps every child progress and achieve. The children build upon their school experiences from EYFS slowly leading into more structured learning ready for Year Two.
Our Curriculum
Super Me!
The year starts with the Super Me topic that is all about ourselves! We focus on the books Inside Out, You Choose and The Smartest Giant in Town. In Mathematics we will revise some of the key skills learnt in EYFS such as 1:1 correspondence, ordering numbers, adding and subtracting. In Science learn about our bodies including the skeleton and our senses. Highlights include walking around the local area to bring our learning in Geography to life and bringing the term to an end with a Smartest Giant in Town Day!
Twinkle Twinkle
Going into the festive term we will explore firework poetry, the story of The Teddy Robber and Christmas! In Mathematics we will explore money, fractions, addition, subtraction and shape. In Science lessons we will learn all about light and materials. Highlights include a trip to Belton House during Learning Challenge Week, festive performances and festive parties!
Shiver me Timbers
We kick start the term with the classic story of Peter Pan exploring inference and lots of new exciting vocabulary. In Mathematics we start to learn about arrays, multiplication, measure and time. We have an fascinating time learning all about the Polar Regions (fingers crossed for some snow!). Highlights include Pirate Day, Number Day and an expedition to the Polar Regions.
Journey
In English we will be focusing on our predicting, sequencing and diary writing skills when exploring the text Little Red. In Mathematics we will be focusing on partitioning, using bar models and learning about the calender. In Science we will be learning animal groups, identifying different trees and enjoying Science Week! Highlights for the term include a trip to Wyndham Park during Learning Challenge week and World Book Day.
On Safari
In English we will be learning to write a recount piece after our trip to Wollaton Hall, we will then explore the story 'The Ugly Five'. In Mathematics we will building on our skills to explore place value to 100, arrays, time and money. In Science we will going on lots of minibeast hunts and learning all about creepy crawlies both from the UK and Africa. Highlights include a trip to Wollaton Hall and Safari Day.
By the Sea
In English we will be focusing on the story Clem and Crab, using our retrieval skills and exploring suffixes. In Mathmematics the children will be using their knowledge of arrays and counting in 2s, 5s, and 10s to complete multiplication problems in readiness for Year 2, they will also build on their knowledge of length, weight and height. In science we will be learning about sun safety ready for the Summer Holidays. Highlights include a trip to the beach at Rutland Water and transition opportunities. The children will also undergo their Phonics Screening test.
P.E Days
| | |
| --- | --- |
| Maples | Monday and Friday |
| Willows | Monday and Friday |
Please ensure that children have the correct P.E kit in school and that earrings are removed on these days. We will send PE kits home to be washed at the end of each half-term.
Reading
Reading is an essential part of your child's learning experience. We would like for the children to read at least five times a week. Your child will take home a reading book and a library book each week. Children have also been given the chance to take part in the reading challenge.
Spellings and Homework
Spellings will be sent home once a week and tested the following week. It is very important that children continue to practice spellings on a regular basis to improve their spelling in their everyday writing. At the start of the year, we continue to practice Phase 2 Tricky words which have been previously learnt in Reception. Moving forward, the children will receive 5 spellings a week to practice, which are linked with the Year One Common Exception Words. By the end of Year one (aged 6), children are expected to read and spell them correctly independently. Spellings are also often tricky words that are introduced during our daily Phonics Sessions.
The Year One common exception words are below: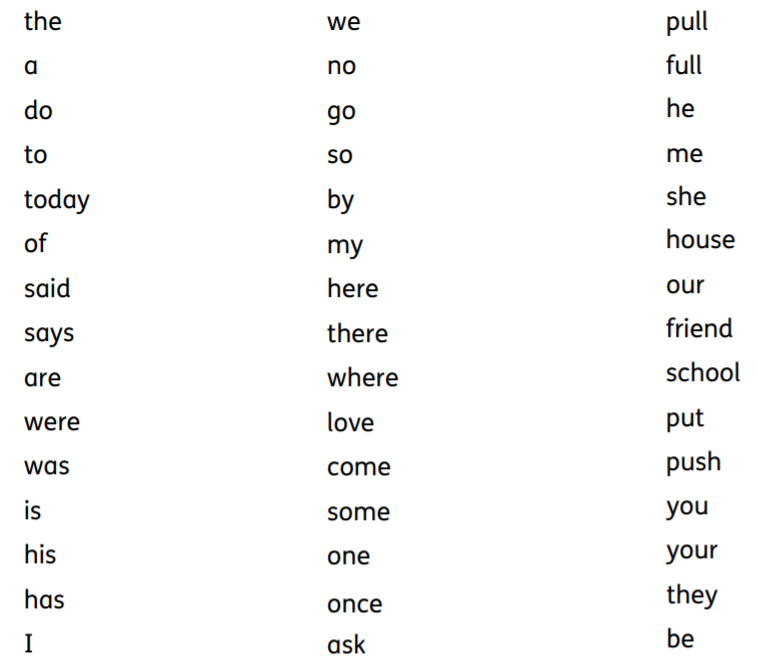 If you do have any concerns or just want to have a chat, we are available at the end of the day for you to speak to. If you wish to discuss something further about your child please make an appointment with the school office.
We would like to take this opportunity to thank you for all of your future support over the year!
Mrs Truby, Mrs Jones and the Year One Team.
Useful Curriculum Links:
Seesaw is a great way to find out exactly what your child has been getting up to in the school day. Your child's QR code is in the front of their reading diary. Please comment on your child's work as they see it when they log in and we often share it in class together. If you are doing anything exciting at home please feel free to upload a picture – we love to share achievements at home in school:
By logging into Phonics Bug you will find a whole library of books assigned to your child at their current phonics and reading level to supplement your reading at home. You will find your child's log in details in the front of their reading diary:
https://www.activelearnprimary.co.uk/login?c=0&l=0
Numbots is a great way to increase your child's basic maths skills and fluency at home. Can you use your maths skills to earn more coins to make your Numbot even bigger and better? Login details are in the front of your reading diary:
https://play.numbots.com/#/account/school-login/9880
At Belton Lane we teach the children cursive handwriting using the Letterjoin Handwriting scheme. Please ask a member of staff if you need your child's login details:
https://www.letterjoin.co.uk/log-in.html
We use Supermovers videos at the start of every Maths and some English lessons. We find it a great way to get the children up and moving whilst learning important concepts:
https://www.bbc.co.uk/teach/supermovers/ks1-collection/zbr4scw
Lots of the fun phonics games we play in school can be found here on phonics play. Why not look for buried treasure, find some tricky word trucks, or have a Picnic on Pluto all whilst perfecting those phonics skills: