A new headteacher for the day!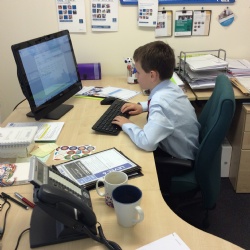 On Thursday 7th May, it was the national General Election, so in school we held our own election, but instead of voting for a Member of Parliment, we voted for a headteacher for the day on Friday 22nd May. The children could either vote for me (Jacob Britton) or Rosie Hardman, the School Council representatives for Year 6.
The next day, in assmembly, the results were announced. After the first six classes had been announced the score was level. In Year 6 thirteen people voted for Rosie and remarkably thirteen people voted for me! Since only one of us could be headteacher all of the votes were counted and I, by the narrowest of margins, won the election.
As it was the last day of SATs week, breakfast club was on for the pupils in Year 6.